Chokers, Neckties
and Neclaces


Click on things outlined in RED for a larger and more detailed picture


Choker/Necklace with Dags
Made with 1/8" inner diameter 20 gauge
Stainless Steel rings. Comes with my
standard hook clasp but other clasp
types may be available if desired.
...$40...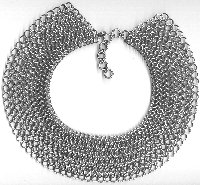 ID Fade Mantle/Necklace
This is short mantle/necklace is made from different size
rings alowing it to expand without using the expanding/idle
ring methods. Its made from 18 gauge Stainless Steel rings.
Also available in blued stainless and blued Mild Steel.
...$45...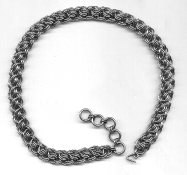 Persian Weave Variant Choker
This elegant choker was created
with a variation of the Persain
family of weaves. It is currently
available in Stainless Steel,
rings are 20 gauge, and slightly
less than 1/4" inner diameter.
The standard clasp is one of my
stainless hook clasps
...$35...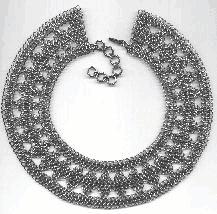 Diamond Pattern Choker/Mantle
A Similar design to the "Diamond Pattern Choker"
listed further down on this page, this one is
made to be worn lower on the neck and spread out
over the shoulders a bit. Made with 20 gauge
Stainless Steel, 1/8"ID links. Several clasp
types are available
...$85...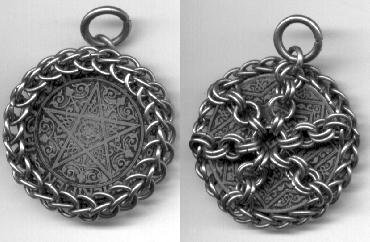 Coin Wrap Pendants
The original of this item, shown to the left, was made as a holiday gift for a friend. I liked the pentacle design on one side and wanted to turn the coin into a pendant, without drilling a hole in it. After many hours of thought, the idea came to me that I should somehow frame the coin in maille. I worked all night on designs and it wasn't until about ten o'clock the next morning that I had something done that I was satisfied with. The maille holds the coin tightly in place and there is no danger of the coin falling out. I have been wearing one I made for myself since December '01 and the coin shows no signs of coming loose from the wrap. The maille is made from Stainless Steel. The coin in the one to the left is a coin from The Empire Cherifien, now known as Morocco. Because of the nature of maille and round metal rings, designs for wraps for different sized coins may vary slightly. As shown in the picture, one side of coin is covered by maille, and the other is left exposed. Click HERE for a picture of another coin wrap and examples of other coins I am planning to wrap, or have already wrapped since typing this.
...$25...
European/Oriental weave Choker
This is made with one of my own weaves that's a mix of Europian
and oriental weaves and uses two ring sizes. There are three
versions of this choker available... the one in the picture is
what I call two-strand because it is made from two chains
connected together. One-strand and Three-strand versions are
also available. This choker can be heat blued for a bronze color
or left looking like shiny Stainless steel. Ring sizes used in
this choker are 1/4" ID 16 guage rings and 1/8" ID 20 gauge rings,
both made from stainless steel.
One-strand ...$30...
Two-strand ...$40...
Three-strand ...$50...
Diamond Pattern Choker
This piece is available in plain stainless steel or roasted to a nice
golden brown. Made of 1/8 inch inside diameter 20 gauge stainless
steel links. About 1½ inches wide and and fitted with a hook clasp to
give it a nice fit for most normal neck sizes. Also available with a
velvet backing of almost any color.
...$65...or with a velvet backing for...$80...
Choker with Three Dags
Made from 16ga aluminum, Stainless Steel,
Copper,, Brass, or Nickel Silver rings with a 1/4"ID.
...$30...
Cube Pendant
It's a solid cube of double link oriental pattern mail.
Made from 20 Gauge stainless steel, each link has a ¼ inch
inside diameter. Avaiable in two colors; heat induced
Golden brown or Stainless Steel. Each side is
approximately 3/4 of an inch square. Let me know if you
a clasp or want the chain to fit over your head. Two types
of clasps are available...Barrel clasps and Lobster tail
clasps. Comes with chain simple chain.. or if desired,
can be combined with most of my other necklace chains.
...$15...
What else can I do with this pattern?
Chainmail Necktie
I got the idea to make one of these when I found out I needed
a tie for highschool graduation and I didn't have one. Made
from 16 Gauge, ¼ inch inside diameter aluminum links. Comes
with my standard hook clasp but other types of clasps may be
available if desired. Specify circumference of neck when
ordering. Weighs only 5 oz. Clip-on only.
...$50...
Necklace
You can almost see right up my nose in this picture. But anyways...
I make necklaces from a variety of chain weaves including Boxchains,
Persian Chains, and Idiot Trap (check out the weaves page for
examples of these weaves). Combinations of these weaves in one
necklace is also a possibility. Available in 18 gauge blued Mild
Steel, Stainless Steel, or combinations of these metals. Available
with my standard hook clasp or as an unbroken loop.
~18 Gauge Blued Mild Steel or Stainless~
...$30...
~20 Gauge Blued Mild Steel or Stainless~
...$40...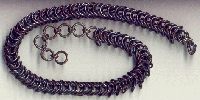 Box Chain Choker
Choker made from my standard size boxchain links.
Available in 18 gauge blued Mild Steel, Stainless
Steel, Nickel Silver, or combinations of these
metals. Available with my standard hook clasp
...$25...
A little something
about Two Tone Boxchains
Box Chain Choker with Cube
This is the same as above but has a maile cube
(like the Cube Pendant)
...$35...