~Finger and Ear Rings~



I'm sorry to say (well, okay... not that sorry) that I cannot guarantee that rings I make will be the exact size that you want. I will however, do my best to make one that will fit the diameter of the finger you wish to wear the ring on. When ordering a ring, rather than saying you want a "size 7" or what ever, it is best to give me some other size referance. One way to do this is to take a short strip of paper and wrap it around the finger (so the ends of the strip meet but do not overlap) you want a ring made for, then measure the length of the paper strip.. others have given me size referances by finding common objects, such as coins, that fit inside an existing ring which fits the desired finger. Also, because some of the rings below are made from many small interconnected rings and not just a solid sheet, some exact sizes are not possible for some rings.

Chainmaile Ring #1
This Stainless Steel ring of maile is made from
20 gauge 1/8" inner diameter rings. These are
very size specific and are best when they fit a
little tight so they do not slip off.
...$10...

Chainmaile Ring #2
A Stainless Steel ring made from the basic element
of the oriental weaves, a simple chain of large and
small rings. The large rings are 1/4 inch inner
diameter 16 gauge, the small ones are 1/8 inch ID
18 gauge.
...$8...
---
+A small Selection of Non-chainmail Rings+


Made with combinations of Copper and Brass.
The first ring is a Double Wide Copper Ring,
the second is a Single Wide Copper Ring.
The third ring is a Coreless Single Wide
Copper Ring. The fourth is a Single Wide
Copper and Brass Ring. Nickel Silver may
soon be an option for these types of rings.
Contact me for availability on these. Some
times I am without the ability to make them.
Current Prices are:
...$12 Each...


Snake Ring
Made in a similar fashion as the ones above
but so it looks like a snake coiling around
your finger. This is a pretty unique peice
of jewelry and no two will be exactly alike.
Contact me for availability on these. Some
times I am without the ability to make them.
Current Price is:
...$25...

---

Cylinder chain w/ fringe Ear Rings
It's a small Cylinder Chain with
three short strips of King's Maile
hanging from the bottom of it.
Made with 20 Guage Stainless Steel
rings with an inner diameter of 1/8".
They are about two inches long.
$20 / pair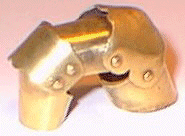 So, someone saw my "Gauntlet of Doom" and wanted to know
if I could make one of those rings that look like a piece
of armor... and here's what I came up with. I'm also
thinking about a few other design ideas. If you want
me to make you something like this I'll need ya around
while I'm working on it because they are very size
specific. The one in the above pictures is made from
18 and 20 gauge brass. I'd like to try one in Silver
sometime... or maybe thin gauge mild steel and blue it.
Contact me for availability on these. Some times I am
without the ability to make them. My current prices for
something like the one in the above picture are from
$60 to $80.
---
§Bracelets§

§Chokers, Neckties, Neclaces§

§Maille and Coin Balls§

§Other Fun Stuff§

§Ordering Information§

§What do I Have Instock?§

§Back to Main§

---