~Welcome to the Catalog sections of my site~


All the Chainmail on this site is handmade from strait wire by artist Matthew Johnston (yes, sometimes I speak in the third person). The methods I use for cutting and assembling the rings makes for a very smooth closure which will not pull hair, scratch, or pinch skin. I take great pride in being able to produce some of the smoothest feeling, highest quality chainmail products and am proud to offer what might be the largest selection of jewelry, accessories, and other odd chainmaille items available online. What is seen in the pages of this catalog is only a sampling of what I can do. If you see something offered that you like... but there is something I could do so you'd like it more, or if you have an idea for something and want to know if I could make it, let me know.. I can sometimes take custom orders.

Thanks for stopping by,
Matthew


Here is a close up of the type of Hook Clasp I now use on most jewelry. I make them myself and sure, they are a bit crude looking, but these are much sturdier than most of the commercialy made ones... but if you want some type of factory made clasp, I will try to find one that will work well for you, but I cannot say for certain that I will be able to find such a clasp... the craft stores up in this neck of the woods have a very limited selection.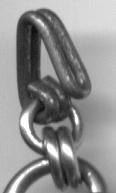 More information about my clasps
Bracelets

Chokers, Neckties, Neclaces

Finger and Ear Rings

Maile and Coin Balls

Other Fun Stuff

What I Have Instock

Ordering Information

Go Back