~Hair Spikes~




Small Steel Rose on octagonal (8 sided) twisted barstock.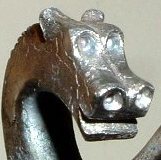 It's a worm... with arms. Some people say it's a horse, others say dragon, a few say it could be a dog. It's some sort of beasty head and I'll leave it at that.. I enjoy hearing what other people say it is. The arms are designed to hold it's head and neck up out of the hair without getting caught in it. The spike part was part of an old broken foil fencining blade which I cut down and twisted. the head and face were forged with a small punches and files while it was red hot.


simple spike made with a twisted pattern which so far seems to be unique to my work.



Twisted and hammered Nickel-silver and brass wire. Brass ferrule on the end was shaped from a brass rod and set with green beachglass that I carved to a rough cabochon shape.


Stick part is twisted & hammered Copper, Brass, and Nickel-silver wires; ferrule on the end is Brass.