Click on things outlined in RED for a larger and more detailed picture

NOTE: Hackysacks and balls now have a page of there own!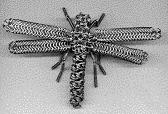 Dragonfly
This chainmaille dragonfly came about from my desire to further explore maille as a sculptural medium; and to implement an interesting but unexpected effect caused by doubling the rings of a Half Persian 3-1 chain, which now makes up the head and tail of this dragonfly (with a slight variation between the two). The thorax (or body, the parts the wings and legs connect to) is made with techniques from the Japanese 4-1 3D/Cube weave. The wings are European 6-1 attached to a wire frame, which passes through rings on the top portion of the thorax. The legs are coils of wire (similar to what I would make and cut up to make rings for weaving maille, but an inner diameter too small for weaving) inserted onto wires that pass through rings on the bottom of the thorax. Most of the rings used are .035" diameter (~20 gauge) Stainless Steel welding wire (ER316L surgical stainless); except for the four rings that make up the mouthparts and end of the tail, which are .045" (~18ga) wire of the same alloy as the others. Ring sizes used for this piece were 3/16" (head and tail), 5/32" (wings), and 1/8" (thorax, wingtips, mouth, end of tail) inner diameter. The leg coils are 1/32" inner diameter. This dragonfly is more or less a unique item. I might make more, but the details (weaves used for different body parts, ring sizes used, etc) and price might vary from piece to piece. This is the type of things I work on to take a break from jewelry items so I will only sell them as they become available. This one here is currently available for $90.
Copper Spider
I was my first completed attempt at chainmaille sculpture. It is a spider made from several gauges of copper and several ring sizes. The green eyes and dark saphire wrap on the fangs is 20 gauge craft wire. At least seven ring sizes were used to create this spider, as well as three different gauges of wire, and three different types of wire. The spider's butt is made with a combination of Japanese 6 in 1 and 5 in 1 that used three different ring sizes; to help it keep it's shape, and add a little more color, I filled it with red and green glass blobs. The torso part of it's body is made with the Japanese 4 in 1 "Cube" weave. The legs are made out of four 16ga 1/16"ID springs which are sort of tied together and tied into the body with 20 gauge copper wire. A friend told me I need to add another set of legs because the small legs near it's fangs are something that spiders have that are more like hands.
Price for this spider or one similar to it (both will come with the propper number of legs)...$70...
Chainmaille Bikini/Halter Top
My first bikini top I made was during the summer of 2000. It was for the Chainmaille Board's chainmail bikini design contest. The top I designed won first place in the pro catagory and was similar to the one pictured above on the left. The bikini tops I make are made from stainless steel which will not rust or tarnish. The weave used in these tops is a very smooth European 6 in 1 weave (non-maille straps are also available) that does not pull hair or pinch skin. Some other people who make this sort of thing use a design where each cup is made out of two triangles of maille... I tried that and did not like the seam up the middle of each cup, so I created my own design that is similar but does not have the seams. The picture on the right shows the same top with a drape of Japanese Open-Hex weave (made with aluminum and stainless). Contact me for details on fitting and measurements.

~Basic top: maille cups, leather or fabric straps~
...$125...

~w/ maille straps (shown above on the left)~
...+$25...

~w/ drape (shown above to the right)~
prices will very between an additional $50 to $75 or more, depending on complexity and link size.

I have several other ideas for stuff like this, but I need bodies to fit some of it to. I will give considerable discounts to people who help me with this or model stuff for this web site. If you are in the Bangor/Central Maine area and are interested in this, email me for more details.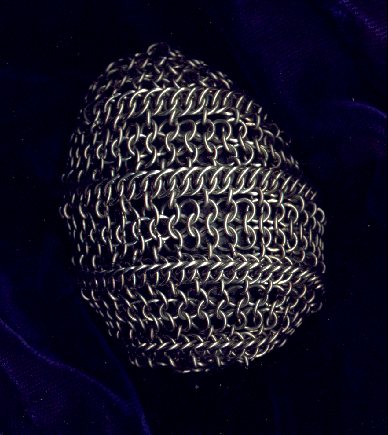 Chainmaille Fabrege Egg
Stainless steel maille and several ring sizes and weaves were used to wrap this wooden egg in a shell of maille. Weaves used are European 4 in 1, and Half Persian 4 in 1. The one pictured to the left is a unique item from me. It is the only one of that design I plan on doing. The original idea behind this was a maille covered easter egg, with the textures of the maille weaves making it so you not only see the pattern, but can also feel it.
...$90...
Chainmail Purse #1
Click on picture for
more detailed pictures
and information.
Shoulder Chain
I can make shoulder chains like this from most chain weaves including
Boxchain, Persian, Idiot Trap, Cylinder Chain, and Spiral Cylinder Chain.
Can be made from 18 gauge Blued Mild Steel, Stainless Steel or a
combination of these metals.
~Box, Persian, or Idiot Trap~
...$30...
~Cylinder or Spiral Cylinder Chain~
...$65...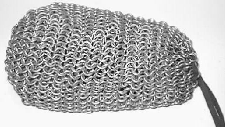 Small Aluminum Bag
makes a fine dice bag...
Made from 1/4 inch inside diameter 16 gauge
aluminum rings. The bottom of it is made
kinda like the cap on a coif using the
expanding rings method. Lined with red, black,
or darkblue velvet and includes drawstring.
...$60...
Splite-Front Jacket Mantle
Here is a friend of mine showing off the mantle I made for him to pay off my post-Pennsic War debt to him a several years ago. This one was made with 16 gauge brass links with a ¼ inch inside diameter. There are a lot of different ways I could make one of these. If there is a particular design you you have in mind, I can work out a way to make it happen. to give an idea on prices;I would charge $250 for a basic sort of one like in the picture above, $220 for one without the decorative dagging along the edge. More complecated designs, more expensive materials, and smaller ring sizes would all increase the price. This is a type of project that takes a bit more time than a lot of the other stuff I make, so I may or may not be able to make one if I'm really caught up in other orders.. and if I don't have time, you'll either have to wait 'till I do, or I can give you a list of other chainmaillers who do nice work.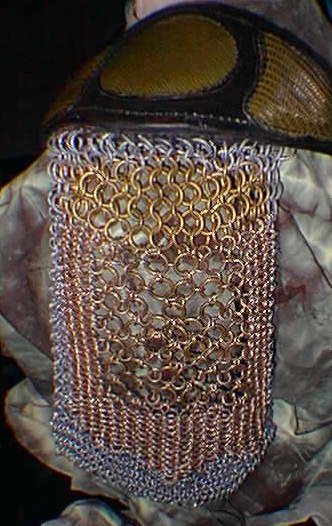 This was a custom piece for a guy who wanted a piece of maille to
hang from a leather shoulder gaurd he was going to attach to a
leather jacket. He gave me a bunch of rings to use, in several
sizes of galvanized and bronze, and told me to just be creative
with it. It was a fun project that mixed japanese 4 in 1, Japanese
6 in 1, and European 4 in 1, with several changes of "grain"
direction and merging of weaves.
I would sell a similar piece for $50..

Six Sided Die
Well, its not maile but hey...
Remember the last time your gamemaster
did something bad to your favorite
character and it really pissed you off?
Be ready next time and hit 'em up side
the head from across the room with one
of these solid metal six siders!
Sizes range from 1/4 to 1\2 inch cross
section, the smallest being an inch long
and the largest about an inch and a half.
Available in Steel, blued steel, or Brass.
The larger ones have a better range and
hurt more. Not a comestible.
here's the prices...

Steel or Blued Steel
...$5...

Blued Steel W/ Brass Pips
...$6...

Brass
...$8...